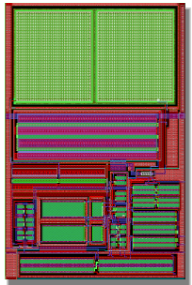 • Phase Locked Loops
• Signal Conversion (ADC, DAC)
• RF Mixers, LNA and LO
• Voltage References
• Power on Reset
• High-Speed I/O (CML, LVDS)
• Amplifiers (TIA, OTA)


We offer customers newly designed and already completed IP cores in a wide variety of process technologies. Our designers have years of experience producing designs for commercial high volume and specialty areas alike.

Anatrix specializes in creating custom IP cores to meet your exact specifications and delivering ready to integrate physical layout. Our experience allows IP cores to be developed using the process technology of your choice.

• SerDes Functions
• Frequency Dividers
• Digital Serializer

• TowerJazz
• SkyWater Technologies
• Global Foundries
• TSMC
• ON Semiconductor
• Mosis Service